Here at the Welsh Youth Parliament, we're proud to work with fantastic organisations who work with young people from all backgrounds across Wales. During its second term, the Welsh Youth Parliament will work with 18 partner organisations, and we'll be featuring them here on our website and our social media channels over the next few months.
This week, we are spotlighting our partner organisation The Wales Federation of Young Farmers Clubs.
The Wales Federation of Young Farmers Clubs
The Wales Federation of Young Farmers Clubs is a voluntary youth organisation operating bilingually throughout rural Wales.
Over 5,000 young people aged between 10 and 26 years are currently members of the organisation, all of which are members of a network of 157 YFC Clubs and twelve County Federations.
Read about the aspirations of two YFC members for 2022.
Aled Thomas, Chair of the Events and Marketing Committee
My name is Aled Thomas. I'm from Pembrokeshire and I am the chair of the Events and Marketing Committee at Wales YFC. This is my third year as chairman of the committee, which is well represented by members across Wales' counties and can guarantee a good discussion in each meeting. I'm looking forward to working with Elliw Griffith, the committee's current vice-chair.
YFC to me has always been more than just about competitions and travelling, it is about bringing like minded people together within the rural community. This has been more important than ever recently during the pandemic, as the government lockdowns made the rural communities an even more isolated place than they already were.
For 2022, I'm looking forward to getting back out across Wales and welcoming members back to YFC events of all shapes and sizes, and continue promoting the good work of federation across our social media platforms.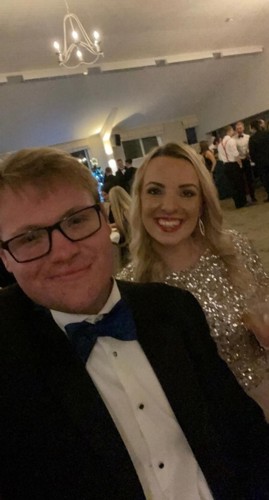 Cerys Harts, Chair of Wales YFC Youth Forum
Hello! I'm Cerys Harts and I am 15 years old and a member of Llawhaden YFC in Pembrokeshire. I am in year 11 studying for Geography, History and French GCSE's among other subjects. When I am not in school or at YFC you will usually find me playing netball and hockey, riding my ponies or just enjoying the beautiful local areas nearby! This year I ran for the Welsh Youth Parliament as I felt that young people in rural areas need more of a representation; we tend to have very different ideas of what we would like to see changed compared to people in larger, more urban areas. After speaking with various members about what they would like to see implemented I realised how important it is for our voices as a community and an organisation to be heard. This was a clear incentive for me to run for Wales Youth Parliament. If I could ask the Welsh Government to change something it would probably be more support for people in rural areas as I know I am lucky enough to be a member of YFC but some people don't have this opportunity so in order to protect young people's mental and physical well-being something needs to be done. 
This year I am also excited to be the chair of Wales YFC Youth Forum, it is such a fantastic opportunity for me to have! After being a member of YFC for the past five years and holding posts in county youth forums, I have learnt just how important it is for junior members to have the opportunity to socialise as well as compete within the movement. I am a firm believer that YFC is an absolutely amazing way to make new friends and I have first hand experience in this making friends across my county as well as the country and it is all down to youth forum! In my role as chair I am hoping to be able to give young people in all counties the opportunity to make new friends and gain all the positive experiences I have already achieved in my short time as a member of YFC. I think the main message I would give to any junior member in any YFC is to just be yourself and just have a chat with other members, that is the best thing you can do as a member of YFC, you'll make friendships that will last a lifetime!