The influencers Ameer Davies-Rana (1 miliwn, Hansh) and Ffion Connick joined us, along with our Member of the Youth Parliament for Pontypridd – Ffion Fairclough – on the first Monday of the Eisteddfod, to discuss one of our priorities as a Youth Parliament – 'Our Mental Health and Wellbeing.' Also joining in the discussion was Marc Lewis, leader of Expressive Arts as well as leader of our partner organisation Digon at Ysgol Gyfun Plasmawr, and Gwenno Davies, Deputy Head at Ysgol Gyfun y Creuddyn. The educators brought extensive experiences to the discussion and provided further input.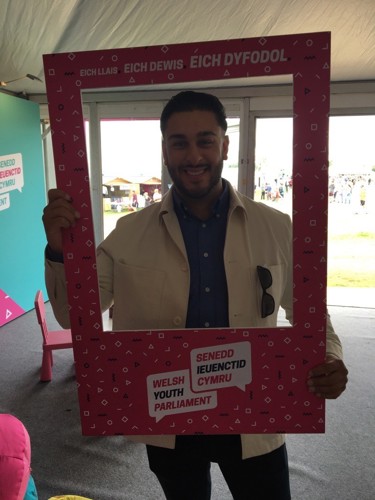 Ameer Davies-Rana
Waiting lists, role models and normalizing the conversation
Amongst the comments was the need to reduce CAMHS lists for mental health support for young people, and that they are currently heartbreaking (something which was noted by the last Youth Parliament). The importance of positive role models was also noted. Ameer talked about the lack of role models in his experience as a young person from an ethnic minority and how sad and damaging racism has been on the self-confidence of some of his peers. We also heard about the importance of raising self-confidence and a positive identity among young people. Marc talked about the work of the Digon group – the LGBTQ+ group at Ysgol Gyfun Plasmawr – and the value of expression through arts in schools, as well as the importance of normalizing the conversation around young people's mental health. Such inspiration!
Teaching
We heard from Gwenno that Ysgol y Creuddyn train their teachers in mental health first aid. The panel noted that it is not only children and young people who need to be educated, but also the parents. Ffion Fairclough was of the opinion that it would also be beneficial for the school's younger children to be able to hold informal conversations with their peers in the 6th form. We heard calls from the whole panel for counselors in schools, along with the need for regular 'check-ins' for young people as it is possible that young people are not always able to recognize their own symptoms, regardless of their level of knowledge about mental health issues.
Implementation not funding
The real answer, in Ffion Connick's opinion, is the need for meaningful investment from the Government rather than throwing money towards the mental health of young people.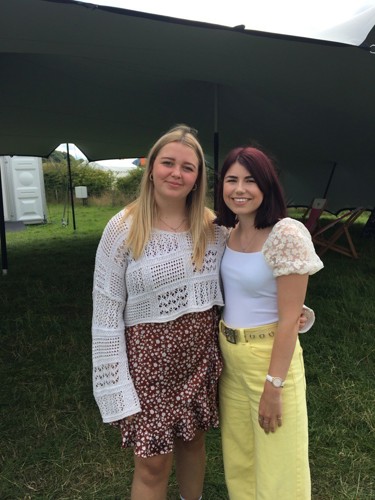 Ffion Fairclough WYPM and influencer Ffion Connick
Thank you to the panel for their knowledge, contributions and dedication to young people's mental health. The Panels' passion was an inspiration and the conversation will form an infrastructure for our work during the next few years – thank you.After the discussion, the panel were joined and thanked by Manon Antoniazzi, Chief Executive of the Senedd (seen stood in the opening photo above). 
Follow our #YoungMindsMatter campaign on our social media channels.
Twitter:@WelshYouthParl
instagram: welshyouthparliament
facebook: welshyouthparliament