On the 25th of September, in the former debating chamber of the Welsh Parliament in Cardiff Bay, we held an engagement event for the #MySchoolDay consultation with secondary school pupils from South Wales.
      A few weeks prior, I had volunteered to chair a discussion with representatives from across the political spectrum- it was, from my perspective, too good an opportunity to miss. 
     When I received the briefing pack with the panelists' backgrounds and areas of interest, their wealth of experience was clear: with a member of the Senedd's Children, Young People and Education Committee, and a former teacher, it would be difficult to find a better panel to answer young people's questions on education. 
     Preparing for the day meant rehearsing welcomes and introductions; how to field questions and give the panel a chance to answer fairly… in short, a lot of talking to myself. But a nagging thought told me that however much I prepared, it would be unlikely for things to go exactly to plan. 
     And so it was not surprising when, on arrival in Cardiff Bay, I found out that two of our panelists were no longer able to attend- politics is, understandably, a very dynamic world. In a way, my preparation suddenly became a hindrance, as I edited my notes and reminded myself to refer to our "two panelists", instead of four. Although having a less wide-ranging panel was somewhat disappointing, I saw it as an opportunity to allow for longer, more detailed answers from our panelists, and more interaction with the young people in the audience.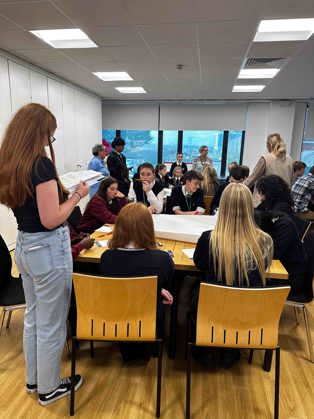 Focus groups at the Education event
  The morning's focus groups came to a close, and we stopped for lunch. The panelists arrived, and I was filled with excitement, as well as a smattering of nerves. One of the Senedd Commission staff introduced me to Vikki Howells, the Labour Party member for the Cynon Valley. Shortly afterwards, Heledd Fychan, the Plaid Cymru representative for the South Wales Central region, arrived, and we began. 
     There was no shortage of questions. Many had been submitted in advance, and it was disappointing, but unavoidable, that we did not get to them all. Some questions focussed on financial support for students, and the panelists discussed the barriers to accessing apprenticeships and higher education. Heledd Fychan spoke about hopes for a change in assessment, away from solely exam-based qualifications, and Vikki Howells drew on her time as an Assistant Head of Sixth Form when talking about the Education Maintenance Allowance.
     But among the pre-submitted questions, only one appeared twice: "Can the study of the Welsh language be optional rather than mandatory?" 
     This is a question people on both sides feel very strongly about, but the panel agreed that almost all young people should learn Welsh. One panelist argued that there a few, if any, countries where young people do not learn their national language. The other told us how, as a child, she opted to study modern foreign languages over Welsh, and described it as her "worst decision". One view born out of patriotism, the other from regret, but both came to the same conclusion.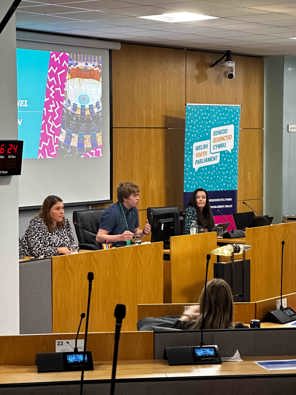 Me - chairing the discussions with Members of the Senedd, Heledd Fychan MS and Vicky Howella MS
     A tour of the Senedd awaited, an ideal chance to stretch our legs, and so the discussion came to a close after around forty minutes; I'm sure it could have continued for at least another forty. We collected our belongings and stepped into the autumnal breeze to walk the short distance to the Senedd building.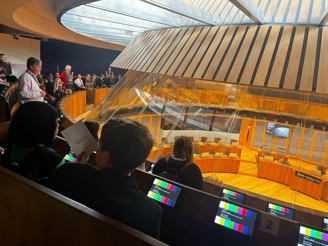 A tour of the Senedd
     I certainly found it an interesting and enjoyable experience, and I hope the other young people did also. It was very generous of the panelists to give up their time to attend, and I'm sure they will have learnt as much from the questions posed as we did from their answers.
We also hosted an event on the previous Friday in Sarn Mynach, Llandudno in North Wales which was attended by local schools and had equally interesting focus groups and panel discussion. The North Wales panel discussions were attended by Gareth Davies MS, Mabon a Gwynfor MS and Ken Skates MS. Thank you to all schools and panelists that made the day so memorable.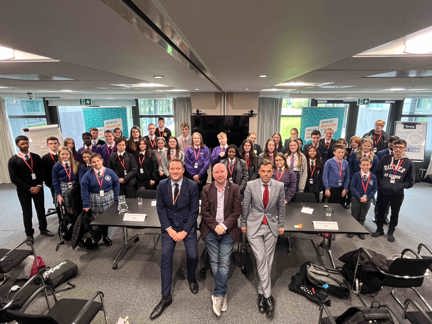 The North Wales participants and panellists. Panelists at the front of the table from left: Gareth Davies MS, Mabon ap Gwynfor MS and Ken Skates MS. 
By Finn Sinclair, Welsh Youth Parliament Member for Preseli Pembrokeshire