To mark our #SustainableWays campaign, we held two events (one in South Wales and one in North Wales) to draw the attention of young people and gather their views on the state of public transport and active travel.
Since we were elected and we chose the Climate and Environment Committee to be part of it, we decided to focus on factors affecting young people's decisions that deter them from traveling more sustainably; whether cycling, travelling by bus or train, or walking.
The event in North Wales was held at Blaenau Ffestiniog Community Centre in the evening and the event in South Wales was held at the Transport for Wales Headquarters in Pontypridd. There was a range of activities, stalls, focus groups, workshops, speeches and an opportunity for attendees to complete our questionnaire.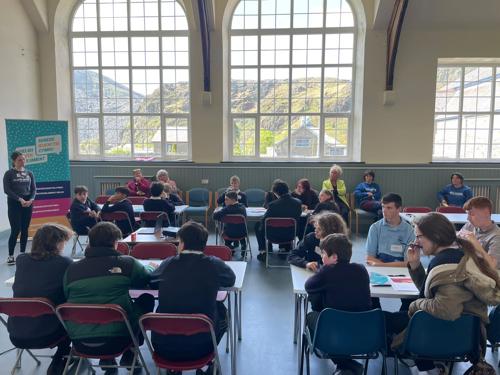 Young people participating in workshops at Blaenau Ffestiniog Community Centre
Around 110 young people attended our events from a range of local schools, and it was great to have ALN schools in attendance, including Ysgol y Deri, Headlands and Ysgol Hafod Lon (see the full list of schools at the end of the article).
At the event in North Wales, the local organisation GwyrddNi was in attendant, which opens doors to sustainable opportunities in the Gwynedd area. In the event in South Wales, we heard about the experiences of pupils from Ysgol Llangynwyd and Ysgol Llanhari about their experiences of travelling by public transport, specifically about their local experiences of attending Welsh medium schools.
As Harrison Williams, WYPM for Boys and Girls Clubs Cymru, mentioned during the event: "As you are all aware, transport is a contributor towards carbon emissions but we don't all use public transport or active travel yet. We would like to know what young people believe – what is the situation, what would persuade young people to use more public transport, buses or walk to places?"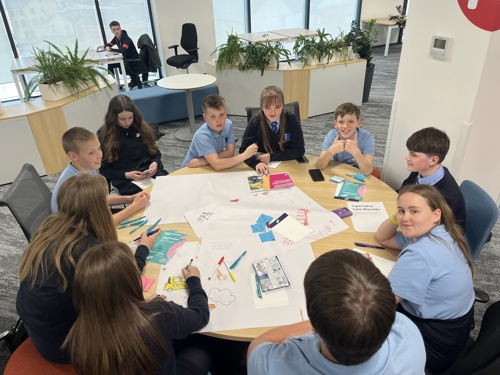 Young people participating in workshops at Transport for Wales HQ, Pontypridd
We also gave young people the opportunity to map out the situation in their local area in terms of the factors that deter them from choosing green options - our four main topics of cost, sustainability, safety and accessibility. We asked the question 'what would be ideal travel in Wales looks like to you in the future?'
Ffion Fairclough, WYPM for Pontypridd, was also interviewed during the day by the factual programmes Newyddion and Ffeil.
Photo
We will take this consultation and further Youth Parliament activities to the Urdd Eisteddfod and the Royal Welsh Show in Llanelwedd. We hope to see you there!
Schools represented at our events
Ysgol Gyfun Gartholwg
Ysgol Gyfun Cwm Rhymni
Ysgol Hafod Lon
Ysgol y Deri
Headlands School
Ysgol y Moelwyn
Ysgol Eifionydd
Ysgol Gyfun Cwm Rhondda
St Cenydd Community School
Pontypridd High School
Ysgol Gyfun Rhydywaun
Ysgol Gyfun Llanhari
Ysgol Gyfun Llangynwyd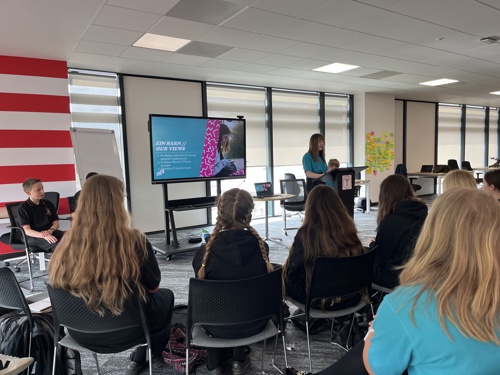 Cerys Hunt from Ysgol Gyfun Llangynwyd sharing her experiences of public transport in her area.
Contributors to the day
We were also joined at our events by the sustainability teams of Transport for Wales, Sustrans Cymru, Y Dref Werdd, Great Western Rail, Rail Future Wales and Senedd Sustainability.