This week, we're getting to know Race Council Cymru – an organisation that works to promote race equality, art, heritage and cultural activities for black and minority ethnic communities across Wales.
By working in partnership with their Primary Stakeholders and other appropriate bodies RCC promote integration, champion justice and racial equality in our institutions and society.
Race Council Cymru
Established in 2010 Race Council Cymru (RCC) represents and supports organisations and grassroots communities in Wales, to strategically challenge racial inequality, prejudice and discrimination. It is the umbrella body established by ethnic minority grassroots communities in Wales to unite key organisations and work together to combat racial prejudice, race discrimination, harassment, victimisation, abuse, violence.
RCC engages with Black Asian and Minority Ethnic grassroots communities and works directly with the local authorities, governing bodies and businesses to promote awareness of race inequality. RCC works to establish and facilitate channels of communication with minority ethnic and grassroots communities throughout Wales in conjunction with and on behalf of Primary Stakeholders, Welsh Government, Local Authorities and other such private and public bodies.
RCC supports BAME youth and has a representative in the Welsh Youth Parliament. The charity also, manages various projects such as Crossing Borders: Music and Heritage and National BAME Youth Forum.
RCC are delighted to be working as a partner organisation with WYP again and to have the opportunity to return a member following elections in November. We want to ensure that the voices of young BAME individuals are heard and included in Welsh politics.
Angel Ezeadum was the Youth Parliament member for Race Council Cymru and represented young people on the first ever WYP for 2 years from 2018.
"If young people want change, then they need to take action-that is what the Youth Parliament is for".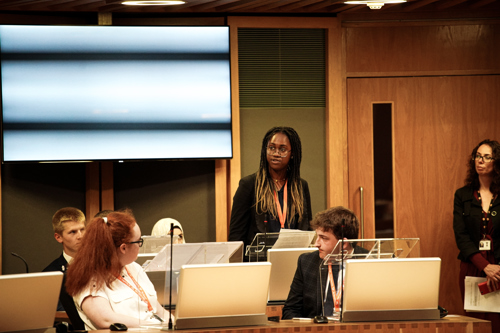 Within her role as a youth parliamentarian Angel worked with other elected young people to provide a platform for the voice of the youth of Wales. Her aim was to empower Wales' young people to identify, raise awareness of and debate the important issues to them. She was involved in shaping the work of Cabinet Ministers and Members of the Senedd on issues that affected and were important to young people. During one of the all member meetings in the Senedd she gave a 90 second statement on the history and importance of Black History Month, "we must not and shall not forget those who helped to shape the UK".
The purpose of being involved in the youth parliament for Angel was to represent the voices of minorities across the nation. The Youth Parliament gives young people the chance to talk about the things they want and need, raising the issues that matter to them that are often overlooked by adults. The Welsh Youth Parliament is a platform to amplify young people's voice for their future. As their voice matters. If young people want change, then they need to take action-that is what the Youth Parliament is for.
Along with having a representative within the youth parliament we also manage the National BAME Youth Forum, a project where young minority ethnic individuals can express their issues and contribute their ideas to achieve a positive change in Wales.
We look forward to once again being a partner of the Welsh Youth Parliament and working together to guarantee that voices from the young BAME community are heard and recognised.