Here at the Welsh Youth Parliament, we're proud to work with fantastic organisations who work with young people from all backgrounds across Wales. During its second term, the Welsh Youth Parliament will work with 18 partner organisations, and we'll be featuring them here on our website and our social media channels over the next few months.
This week, we are spotlighting our partner organisation Carers Trust Wales.
Carers Trust Wales
Young carers each have their own unique circumstances and experiences, and Carers Trust Wales advocates for those experiences to be recognised and acknowledged. Working directly with and for young carers, we as an organisation take those experiences and use them to direct our work; ensuring our projects are collaborative, creative, and relevant to what young carers need.
Co-produced with young carers alongside the local authorities in Wales, the Young Carers ID card project is just one example of the work Carers Trust Wales undertakes to help identify and support young carers. By creating a physical ID card, we aim to help young carers to identify themselves to professionals they meet in day-to-day life and receive support for concerns they might have relating to their caring role. For example, a young carer might use the ID card to tell a teacher they are struggling with work, or to pick up controlled medication at a pharmacy. By removing the need to explain their caring role to everyone they need support from, we hope the YCID will empower young carers to take control of their own narrative; something we see reflected in the values of Welsh Youth Parliament.
As one of the original partner organisations in the first cohort of Welsh youth Parliament members, Carers Trust Wales has a vested interest in the work of the members, and consequently took great pride in being invited once again to elect its own representative. The Carers Trust Wales youth council elected Ollie Davies for a second term, in what became a close election between very talented candidates. We are very confident that Ollie will be able to represent the voices of young carers across Wales assertively and effectively and look forward to assisting him through the next couple of years.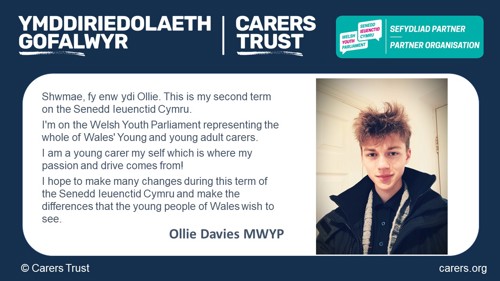 What would Ollie change for young carers if he could? Get to know Ollie, member of the Welsh Youth Parliament and Carers Trust Wales in this Q&A:
What's your name? Where are you from? 
Shwmae! My name is Ollie and I am from Bridgend in South Wales! 
What do you do in your spare time? 
As a young carer I don't have a lot of spare time but when I do, I absolutely LOVE music, I sing, play piano and love listening to music. I took music as GCSE option and hope to teach it in the future. 
What made you run for the Welsh Youth Parliament? 
I ran for the Welsh Youth Parliament this term because after my first term I still felt there was things I wanted to do for young carers and there was so much more to be achieved, I'm so grateful to have been given another shot at the job! 
If you could ask the Welsh Government to change one thing for young people what would it be? 
It's important to remember that it's not as easy as asking for one thing and getting it, but I am going to fight for what is right and for the things that carers across Wales want, need and deserve.
Carers Trust is a major charity for, with and about carers. We work to improve support, services and recognition for anyone living with the challenges of caring, unpaid, for a family member or friend who is ill, frail, disabled or has mental health or addiction problems. Our vision is that unpaid carers count and can access the help they need to live their lives.